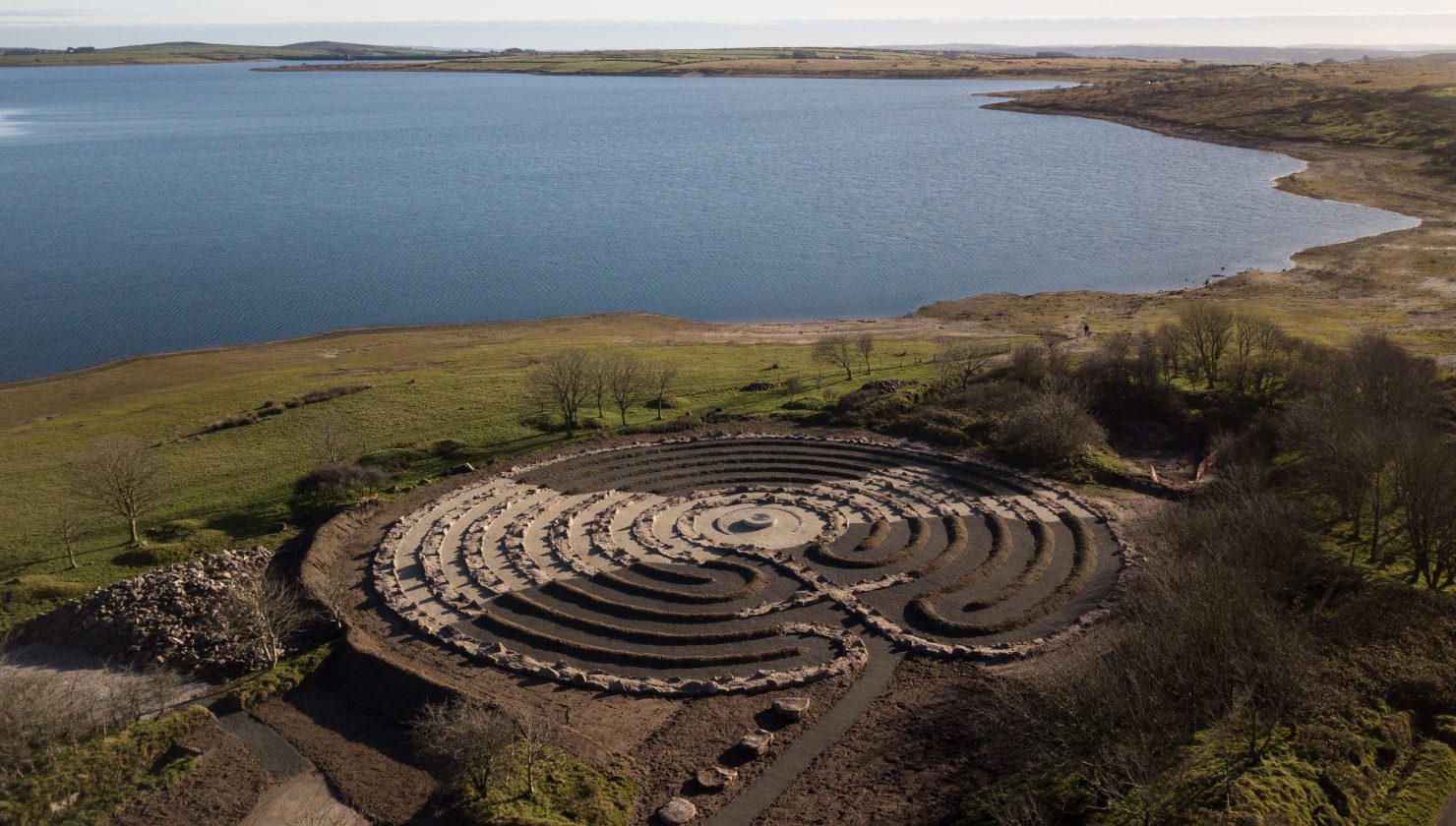 South West Water & South West Lakes are supporting habitat creation at Kerdroya, Colliford Lake.
Posted on January 6th, 2023
South West Water, Cornwall's water and wastewater services provider, is the owner of the Colliford Lake site that's home to Kerdroya: The Cornish Landscape Labyrinth.
Kerdroya is steadily emerging and now, with South West Water's financial and in-kind support, construction work and community projects can continue to flourish, with a planned opening date for the labyrinth in Autumn 2023. 
South West Water's investment in the Kerdroya project is aligned with ambitions around reducing carbon footprints and enhancing biodiversity. Kerdroya will provide a free to access outdoor space that can be enjoyed by all. 
Kerdroya groundwork has already transformed an abandoned, derelict car park site into habitat for local flora and fauna, becoming a vital home for insects and pollinators, as well as hundreds of species of flowering plants. The project will dramatically improve the Colliford site, helping to inspire enjoyment of the wider landscape of Bodmin Moor and promote the wellbeing benefits of outdoor spaces. 
As Golden Tree's Artistic Director Will Coleman explains: 
Ni re beu owth oberi yn tiwysyk gans ragdres Kerdroya dres nebes polsow lemmyn, 'kosel ha teg' dh'y wul yn fas. An kevarghow ma a SWW a dhiskweth aga bos omres dhe'n splatt Reskola hag an ragdres Kerdroya. Ynwedh ev a'gan gweres dhe dhialhwedha skityans a gevargow aral rag pesya ow kwith, ow trehevel, hag ow karma adro dhe'n marthusow a'gan Keow Kernewek ha Ranndir a Dekter Naturek a Vri Kernow 
'We've been working hard on the Kerdroya project for a while now, taking our time to do it properly! Having this investment from South West Water shows their commitment to the Colliford site, and the Kerdroya project. It has also helped us to unlock other injections of funding to keep on protecting, building and shouting about the wonders of our Cornish hedges and Cornwall's AONB designation.' 
South West Water's Partnerships and Community Coordinator, Vicky Garner, said: "It is wonderful to see the unique Cornish hedge labyrinth that is Kerdroya emerging on our land at Colliford Lake. We are proud to support the creation of the labyrinth as well as a new generation of Cornish hedge builders who will learn their art through being part of the Kerdroya project.
Cornish hedges are amazing structures, not only creating rich habitat and corridors for wildlife but intercepting surface and sub-surface run-off during heavy rainfall, helping to slow the flow of water through the landscape." 
South West Water's lakes are special places for people to explore the outdoors. They are managed for access, conservation, and recreation by independent charity South West Lakes who act as stewards of the lakes – protecting the sites. Golden Tree Productions are working closely in partnership with South West Lakes on this carbon-neutral project to improve the recreational offering at Colliford lake. 
The financial contribution from South West Water will help to create 800 metres of new habitat, support new generations in discovering the importance of the humble Cornish hedge and an extensive training programme that provides new opportunities for people to learn and develop skills in the ancient art of Cornish Hedging, protecting Kernow's hedges for the future. 
There are a number of ways other businesses can support Kerdroya, with an investment that will proudly stand for thousands of years to come, from a yard(ish) stretch of Cornish hedge to a granite gateway sponsor, find out about the ways to support Kerdroya here.