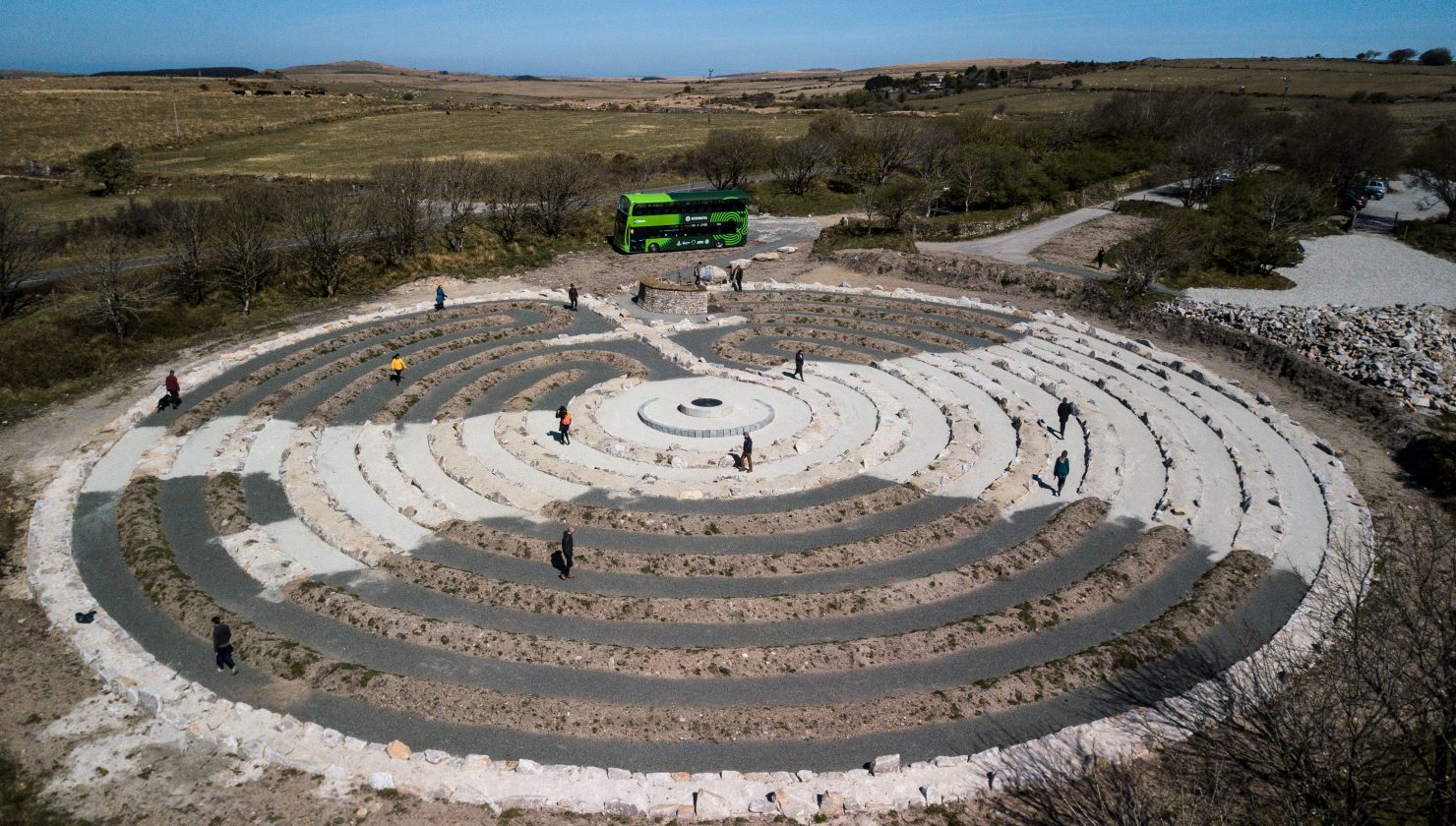 Ways to Support Kerdroya: The Cornish Landscape Labyrinth
Posted on August 11th, 2021
We are inviting One and All to join us in creating Kerdroya: The Cornish Landscape Labyrinth, a living testament to culture, habitat and skill. 
This major new piece of permanent public art is a 56m diameter classical labyrinth built of Cornish stone hedging at Colliford Lake on Bodmin Moor. Once construction is finished, the visitor will walk a single, meandering path through stretches of artisan stonework celebrating the aesthetics of distinct hedging styles from 12 Cornish locations. At the very heart of Kerdroya, a 10m circular space opens out to breath-taking views across the moorland and lake. 
By investing in one of the offers below, you will be part of a project that will support tens of thousands of species of insects and pollinators, and train the next generation of Cornish Hedgers.
Kerdroya Enamel Pin Badge - £15

Become a patron of Kerdroya and receive a pin badge, engraved with the distinctive labyrinth logo. 

Become a patron

Hedge Pledge - £220

Get your very own yard of Cornish hedge in the labyrinth and leave your message for the future. Your stretch of hedge will be installed with a 75mm plaque, engraved with your message to the future. 

Buy your stretch
Meet the Hedger Day - £400

Visit Kerdroya at Colliford Lake and meet our Guild Accredited Master Hedger. Have a hand in constructing the labyrinth which will stand for thousands of years to come. 

Buy your Hedger Day ticket
Bodmin Boulder - £1,000

Your mark on a chunky granite feature. On either side of the approach to Kerdroya, visitors encounter huge hunks of Bodmin Moor granite: boulders uncovered during the groundworks, complete with bespoke handmade metal plaque with business name or chosen text. 

Buy your boulder

Rest and Reflect - £3,000

A bench for quiet contemplation. A seat for weary wanderers to rest and reflect. Complete with Supporter badge for your website, emails etc, bespoke handmade metal plaque with business or chosen name and a social media thank you from Golden Tree. 

Get in touch to buy your bench
Artisan Stretch - £6,000

Claim one of 11 stretches of artisan stonework, celebrating distinct hedging styles from the sections of the Cornwall AONB. Complete with bespoke handmade metal plaque with business name and logo on signage around the site. We also invite you to a Meet the Hedger day for up to 6. 

Get in touch to buy your stretch

Gateway to Kerdroya - £10,000

Every single visitor will enter Kerdroya through an imposing gateway marked by two impressive granite posts. Each standing stone bears a metal plaque proudly engraved with your logo and name as 'Lead Sponsor'.

Get in touch to speak to us about the Gateway to Kerdroya
Be a Rockstar - Donate your Spare Stone

We've got Bodmin Moor granite, gathered up from the bed of Colliford Lake, forming the body of the labyrinth but we want to incorporate hedging styles from each area of Cornwall, stretching from Hartland to West Penwith and all the way back to Rame Head. So, if you've got a chunky pile of killas, a shedload of shillet or even a radjel of random rocks, you can help us create this colossal Cornish masterpiece. 

Get in touch if you've got hedging stone to spare

Be a Supporter - Share our Story

If becoming a Hedge Pledger or a Patron with a Pin Badge isn't an option for you right now, we still appreciate your support. You can show your support for Kerdroya by subscribing to our newsletter, spreading the word and sharing the love on social media.

Subscribe to our Newsletter