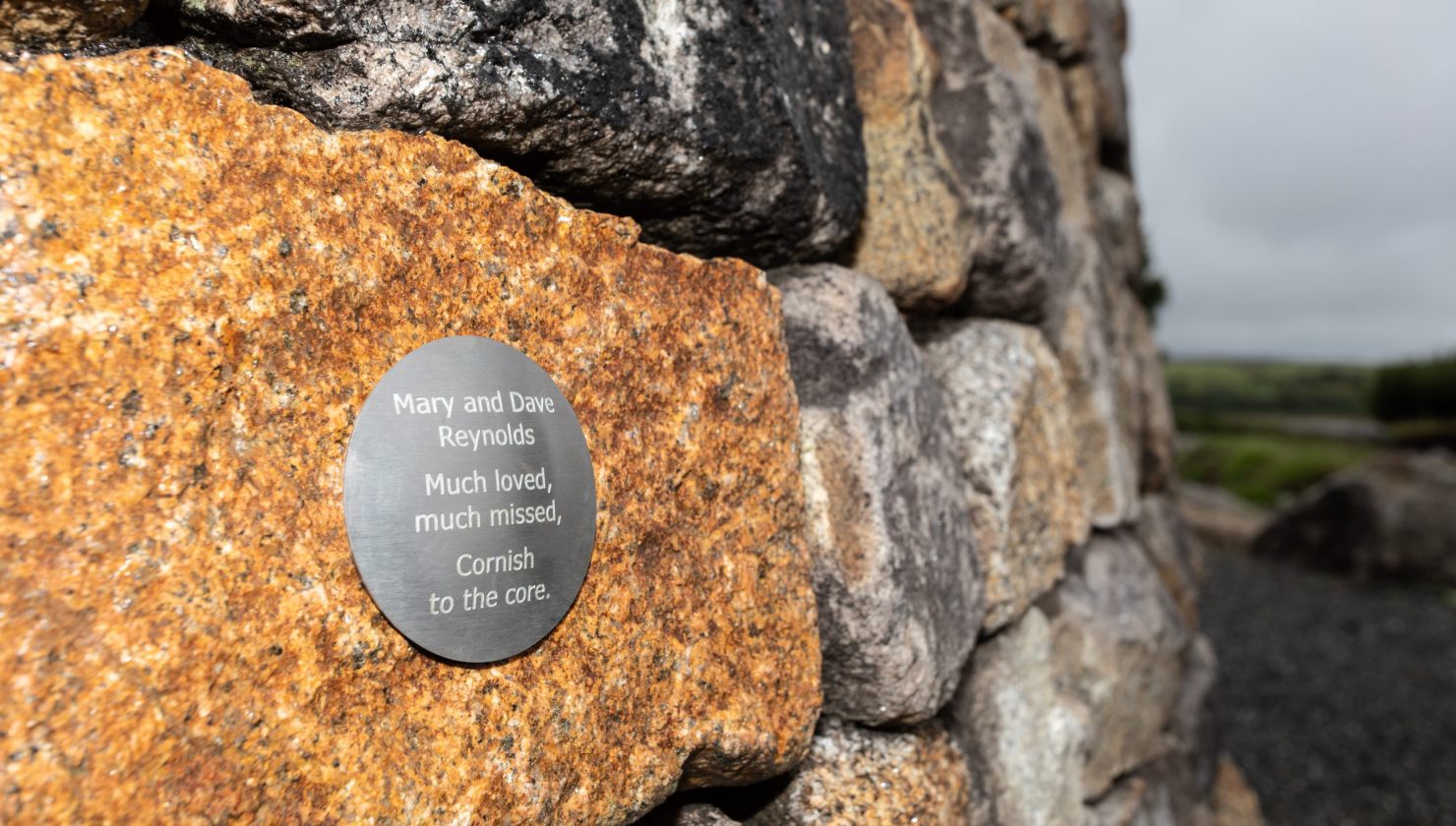 Kerdroya: The ultimate Cornish Christmas Gift
Posted on December 1st, 2021
A Kerdroya Hedge Pledge makes a great Christmas gift
for nature-lovers, art aficionados and those who are Cornish to the core. Here are our top ten reasons why a Hedge Pledge ticks all the boxes for a special Christmas present from Cornwall.
If a Hedge Pledge isn't quite what you're looking for there's always the Golden Tree shop for plenty more gift ideas and stocking-fillers.
1.A very Cornish Christmas present 
If you'd like to wish someone a Nadelik Lowen / Merry Christmas, what could be more Cornish than a lump of granite? It's not just any old lump of granite though. It's a granite grounder, with a personalised metal marker disk, that forms part of Kerdroya: a gigantic labyrinth built entirely of Cornish hedges on Bodmin Moor.  
What's more, you can choose the location of the Hedge Pledge marker disk from our map, selecting the spot in Cornwall that means the most to the recipient. If you'd like to make the Christmas gift even more Cornish why not ask us to help with a spot of translating, so that your personalised plaque can proudly sport Kernewek for all to see.  
2.An easy and eco-friendly gift idea  
Our Hedge Pledges make a great sustainable gift for eco-warriors and nature-lovers. It's a zero-waste, sustainable slice of Cornwall with no wrapping required (and no sticky tape in sight). The project celebrates 60 years of the Cornwall Area Outstanding Natural Beauty, the Diamond Jubilee of the designation of Cornwall's protected landscapes. Kerdroya prides itself on being a carbon-neutral project, restoring and repairing Cornish hedges across Cornwall, as well as creating hundreds of metres new habitat at our Colliford Lake site. The Cornish hedges, that make up the boundaries of our Cornish landscape labyrinth, support tens of thousands of species of insects and pollinators, so your Christmas gift is helping to save the bees, plant more trees and transform a disused car park space into an enchanting labyrinth. 
3.A good gift for green-fingered gardeners  
A Hedge Pledge might be just the thing for a green-fingered gardener who is running out of space in their own patch, or whose knees just aren't what they used to be. A Hedge Pledge buys them their very own low-maintenance stretch of Cornish hedge in a landscape labyrinth on Bodmin Moor, to be enjoyed by generations for years to come. Your gift to them helps fund a project creating homes for wildflowers and wildlife and supporting tens of thousands of species of insects and pollinators, as well as training the next generation of Cornish Hedgers. All that without having to put a pair of gardening gloves on or lift a single stone! 
4.Something for the man who has everything 
We all know that one man who has everything, but does he have a stretch of Cornish Landscape Labyrinth with his name on it? Tell him he's been your rock, by gifting him one of his very own, in a Cornish hedge labyrinth on Bodmin Moor. One thing is for sure, it'll certainly last longer than a box of socks. 
5.Think Outside the Box 
If you're sending presents abroad, or even just long-distance, a Hedge Pledge could help you save on postage costs (and give an exhausted delivery driver a break from all those heavy boxes). Hedge Pledges can be purchased online, and you'll receive a digital certificate to download, which could even be sent to the recipient by e-mail. There's no wrapping required but when the Kerdroya labyrinth is complete, they'll be able to visit their stretch of hedge and find the personalised message you left for them long into the future. 
6.Cornish Christmas Gifts for Creatives  
If you're looking for something for the art lover in your life, what could better than an artwork they don't have to make wall space for? A Kerdroya Hedge Pledge is an opportunity for your art-aficionado to own part of a colossal Cornish masterpiece and claim a piece of everlasting land art in Cornwall. A Hedge Pledge is an investment in the future heritage of Kernow. It buys you a bespoke message engraved on a Marker Disk by metal sculptors Thrussells and embedded on a stretch of hedge at Kerdroya. Thrussells are the father and son metal sculptors based in the dramatic Bodmin Moor landscape who created the central artwork at the labyrinth 'The Heart of Kerdroya'.They create natural sculpture designed to create impact, inspire storytelling, and leave lasting impressions for generations to come. 
7.What's more thoughtful than a personalised present? 
Personalised presents are always a thoughtful way to show someone you were thinking of them. Our Hedge Pledges enable you to have a message of up to three lines long engraved on the metal Marker Disk embedded in the hedges of the labyrinth. Declarations of love, thanks or Christmas wishes are all welcome.  Not only that but you can pick the perfect spot for your message, from our labyrinth map of Cornwall – choose a location that's personal to them and that they'll never forget. 
8.Gifts that help a good cause in Cornwall 
All the funds raised through the purchase of Golden Tree Productions Shop items support the work of our CIC; masterminding cultural, educational and environmental solutions that make a meaningful and lasting difference to communities in Cornwall.
9.Christmas Gifts that keep on giving 
Looking for special Christmas gifts that won't be re-gifted or appear on the raffle table next year? If you're shunning a throwaway Christmas, forget those presents with short shelf lives and start thinking of a gift that will last generations. Gifting someone their own stretch of Kerdroya means your message will be set in stone. Cornish hedges can last for thousands of years, in fact, they are thought to be the oldest man-made structure still in use for their original purpose 4,000 years later!
10.Last-minute Christmas Gifts  
As well as being timeless, Hedge Pledges are handy for last minute shoppers looking for something thoughtful at short notice. A Hedge Pledge can be bought online right down to the very last-minute, including adding your personalised message and a downloadable certificate. Get them something timeless, even if it is at the eleventh hour…