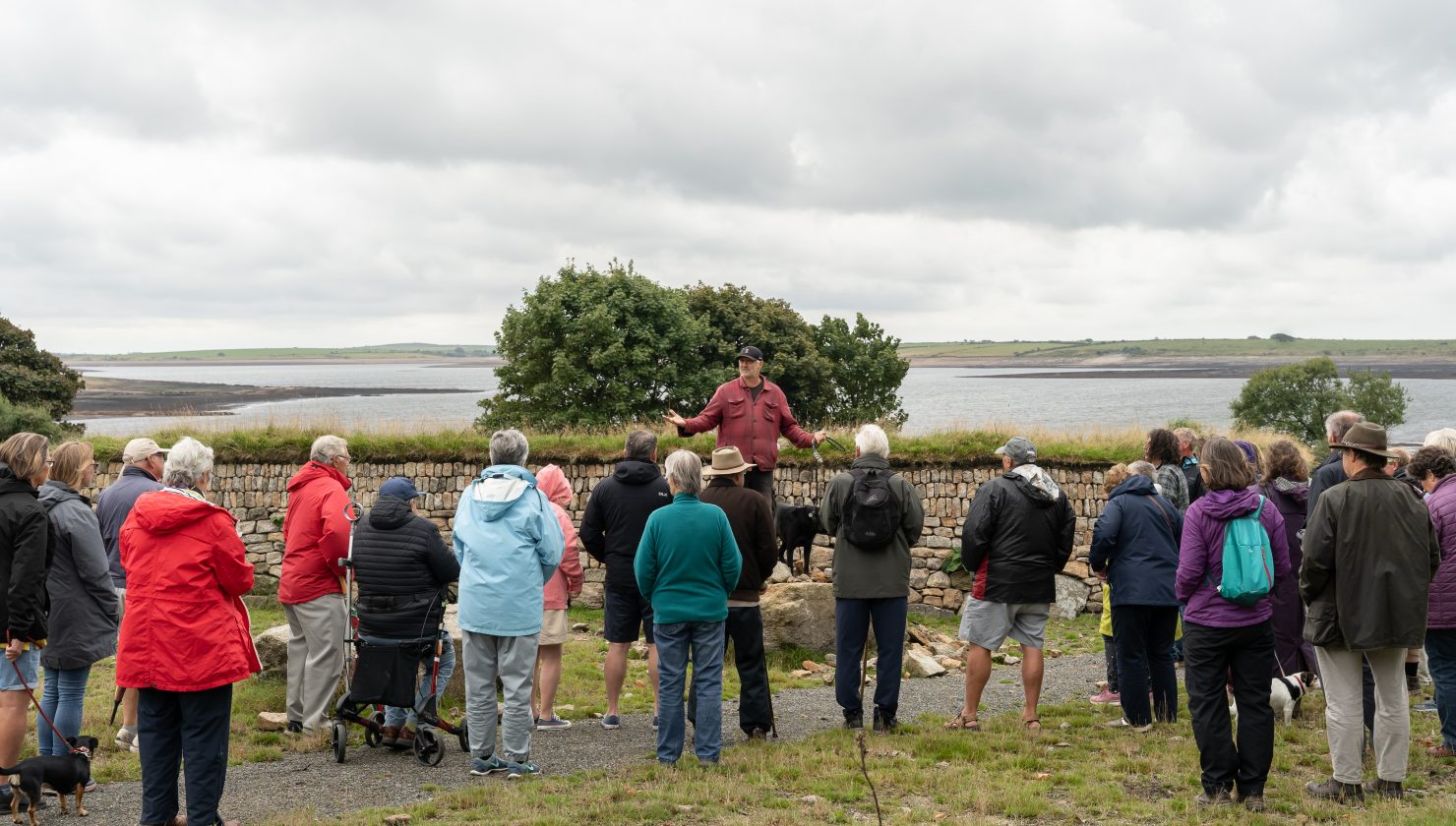 Heartfelt thanks to Hedge Pledgers from the heart of Kerdroya
Posted on September 28th, 2022
In early September we invited our precious Hedge Pledgers (individuals who've donated to the Kerdroya project and sponsored a yard(ish) of Cornish hedge) to the site for a sneak peek before we begin the construction phase in Spring 2023. 
The Hedge Pledgers braved the wild Bodmin Moor weather to walk the length of the labyrinth and hear more about the project so far. They got to examine the training hedge stretches and marvelled at 'The Heart of Kerdroya' artwork commission in the centre of the labyrinth, created by Thrussells and funded by Arts Council England. 
After a long walk around the labyrinth and a yarn from Will, our Artistic Director, they were treated to a delicious donation of  proper saffron buns from Berryman's Bakery and a cup of tea. The weather was wild and quick-changing, in true Bodmin Moor fashion, but thankfully our sponsors Cornwall by Kernow bus company provided some much-needed shelter – with the big green Kerdroya bus parked up for visitors to enjoy a view of the labyrinth from the tree-tops. 
Will was delighted to have a chance to thank Hedge Pledgers for their support:
Agan Arwostloryon Ke mar hel re beu ow kortos termyn hir dhe weles an splatt, ytho pur lowen on ni dhe vos gallos wortiwedh dh'aga helwel oll dhe Gerdroya rag kavos kynwel agan ober. Gronn kales yns neb a wrug omlowenhe aga godrigow dell hevel – despit an hager awel – ha da via genyn aga tehweles, yn trekli!  
'Our generous Hedge Pledgers have been waiting a long time to see the site, so we were very pleased to finally be able to invite them all to Kerdroya to have a geek at what we've been up to! They're a hardy bunch who seemed to enjoy their visits – despite the beastly weather – and we can't wait to have them all back, drekly!' 
We are so grateful for the overwhelming support we've received from more than 200 individuals and businesses making Hedge Pledges, selecting their very own stretch and deciding on a message to the future – heart-warming messages that mark memories of loved ones, first kisses and favourite places. 
The site is currently closed for the winter (because Cornish hedging isn't much good in the rain!) but as spring arrives, we'll be making plans to head back to the edge of Colliford Lake with our master hedgers to continue construction…drekly. 
With an expected completion date in Autumn 2023, we look forward to welcoming the public to the site then but hope to have our Hedge Pledgers back on site for another sneak peek before that – so that they can admire their stretch of hedge in all its glory, and see the labyrinth they've helped create, with their investment standing proud for the next 4,000 years or so…. 
Fancy your own stretch of Cornish hedge and helping us build Kerdroya? The map of Kernow still has Hedge Pledge locations available, find out more on our Hedge Pledge page here.  
Meur ras bras / Thank you very much to Berryman's Bakery and Cornwall by Kernow for supporting our Hedge Pledge events.