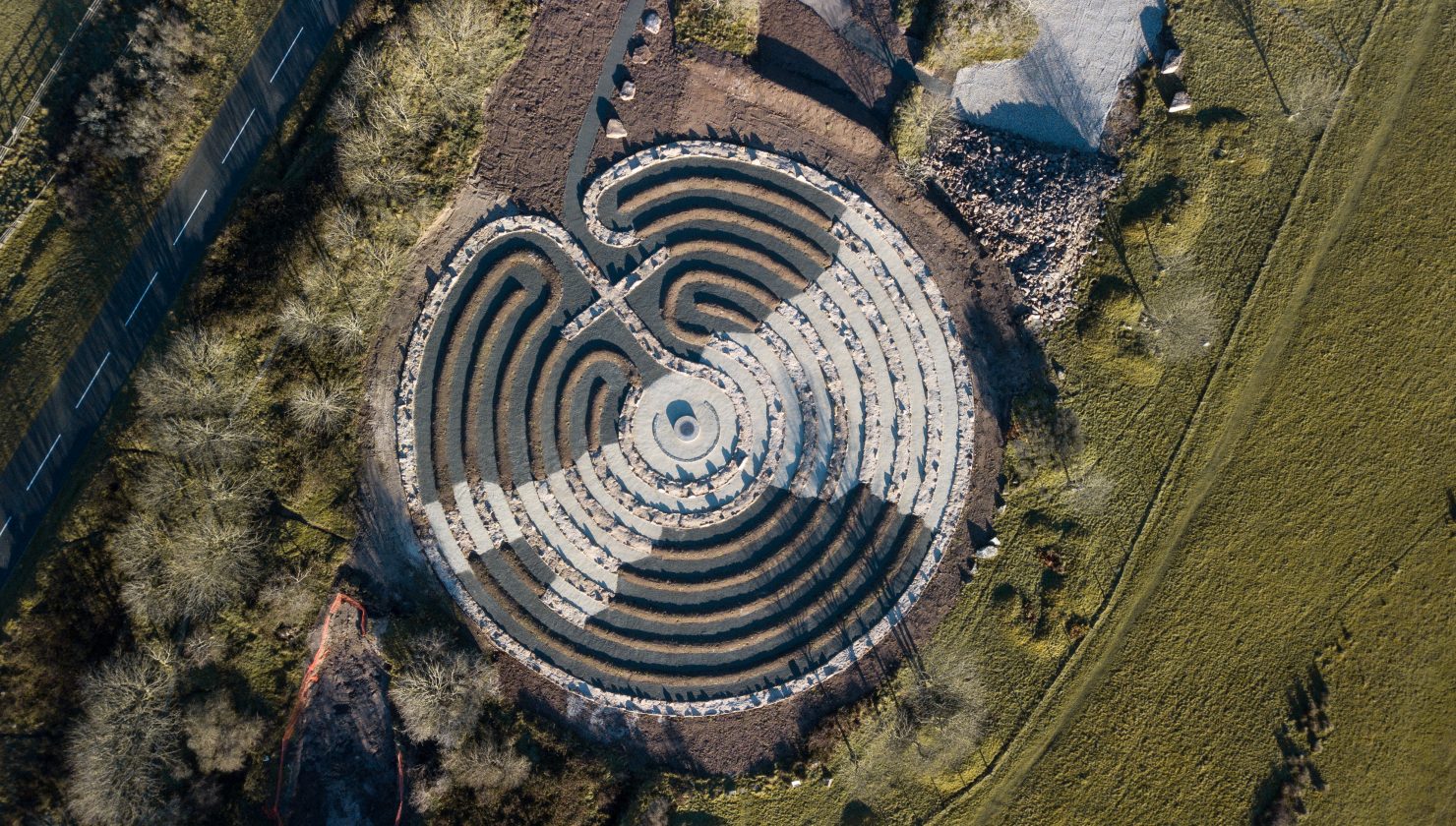 Celebrate National Lottery Open Week with a chance to win your very own stretch of Kerdroya: The Cornish Landscape Labyrinth
Posted on March 14th, 2022
This National Lottery Open Week 19th – 27th March, we'll be saying #ThanksToYou /
#Merastahwi
with a Kerdroya Hedge Pledge Prize Draw.
Every week National Lottery players raise over £30 million for good cause projects, like Kerdroya – the Cornish Landscape Labyrinth that we are creating on Bodmin Moor. That's why we're pleased to be taking part in National Lottery Open Week, which celebrates the contribution of National Lottery players in supporting projects like ours. 
To say meur ras / thanks to National Lottery players for their support, we will be offering one lucky Prize Draw winner their own stretch of the labyrinth, marked with a disk that will proudly display their message. 
Once complete, Kerdroya will have transformed a disused car park into 800m of new habitat for tens of thousands of species of insects and pollinators, as well as hundreds of species of flowering plants. Kerdroya has been created to commemorate the 60th anniversary of the Cornwall Area of Outstanding Natural Beauty and will become a place of quiet contemplation for everyone to enjoy an unsung hero of our landscape, the humble Cornish hedge. 
Anyone who emails us a photo (or our social media followers can upload, share and tag us in a photo) of any National Lottery ticket or scratch card in an outdoor location during National Lottery Open Week, 19th March – 27th March, will be entered into the Kerdroya Hedge Pledge Prize Draw. Please check our full terms and conditions below.
As a recipient of National Lottery funding, Golden Tree Productions CIC has been able to offer 167 days of training, engage 800 school pupils and share the wonders of Cornish hedges with 500 members of the community during a lecture series, through the Kerdroya project. 
We are one of many participating National Lottery-funded projects across the UK who are proud to be taking part in National Lottery Open Week, coming together to say #ThanksToYou / #Merastahwi to the players with exclusive offers.  
Visit www.nationallotteryopenweek.com to find out more. 
OFFER TERMS AND CONDITIONS 
Golden Tree Productions will be taking part in National Lottery Open Week with a prize draw of one Kerdroya Hedge Pledge. The winner will be offered the opportunity to select the location of their Hedge Pledge from available spots on the Kerdroya Labyrinth Map. The winner will be invited to have a message of their choosing (90 character limit) engraved on a 'Marker Disk' which will be installed on their chosen stretch of Cornish hedge at Kerdroya near Colliford Lake, Bodmin Moor, Cornwall. 
One National Lottery ticket or scratch card will be equal to one prize draw entry. Only one entry per user will be accepted. Prize Draw entries will be accepted between 19th March and 27th March. One Hedge Pledge prize winner will be selected at random after the closing date for entries and will be contacted directly. Their name and winning entry image will be shared on social media channels. This offer is not exchangeable. 
Any National Lottery games, including National Lottery draw-based games and National Lottery scratch cards, bought in-store and online / via app will qualify to redeem this offer. The date of draw / purchase is not relevant. 
Proof of purchase of a National Lottery game needs to be a digital photograph or screenshot of the ticket, scratch card or online app draw. Entries can be made via email to [email protected], Tagged Instagram posts from Golden Tree followers, Instagram Direct Message from Golden Tree Followers, Tagged Facebook Posts or Facebook Direct Message from Golden Tree Followers. If entering via social media, please ensure your profile is public and visible to ensure entry can be viewed. Receipt of entries will be acknowledged by like or reply. 
The prize draw winner will be invited to join the Hedge Pledge mailing list to be kept updated about their Hedge Pledge Marker Disk, future events and project progress. 
Golden Tree Productions has the right to withdraw this prize draw offer for any reason, including unforeseen circumstances. Golden Tree Productions retains the right to use discretion when approving the message for the Marker Disk.