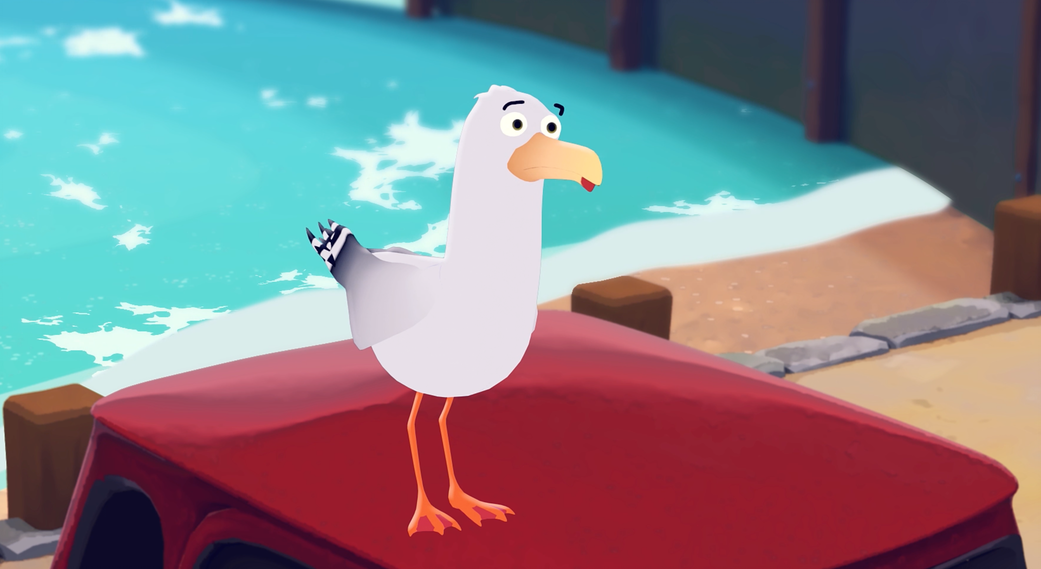 Popular 'Tales from Porth' brought to life in new animation
Posted on March 9th, 2022
Gwren ni gweles piw eus a-dro yn Porth hedhyw… / Let's see who's out and about in Porth today…
Golden Tree Productions, in partnership with Engine House VFX, were awarded a commission for a children's Cornish language TV pilot by Cornwall Council, through Screen Cornwall, using funding from the Department for Levelling Up, Housing & Communities (DLUHC).
Together we have brought to life 'Goolan' the first story from the 'Tales from Porth' book series, already a much-loved tool in children's Cornish Language education. The animation is set in the fictional location of Porth, a fishing village somewhere in a parallel Cornish universe, filled with remarkable inhabitants. The pilot episode tells the story of 'Goolan', the small seagull who's always hungry, voiced by Flo Crowe. The story is narrated by 'Tales from Porth' author Will Coleman, with heart-warming interactions between narrator and hero character throughout the episode.
The project involved full adaptation of the book illustrations and artwork to create the vibrant and dynamic world of Porth, with award-winning studio Engine House VFX using a distinctive blend of 2D and 3D animation to create a bespoke visual storytelling style.
We worked with script consultant James Henry, whose experience includes popular series such as Shaun the Sheep and Hey Duggie, to create the pilot script. With a Kernewek / Cornish language first approach, the episode aims to support vocabulary development for learners aged 5-8 years old.
Author and Artistic Director of Golden Tree Productions Will Coleman said:
"Pur dha o genen ni ow kesoberi gans 'Jynnji VFX' dhe dhri 'Hwedlow dyworth Porth' yn few. Ow mires orth Goolan treylys dhe vywheans bewek a verk eskorrans nowydh ragon yn Gwedhen Owr. Yma hwans dhyn bos da an hwedhel bysyel flamm nowydh ma gans fleghes, kepar dell o an lyvrow. Gwren ni omlowenhe gans Kernewek!"
('We have enjoyed working in partnership with Engine House VFX to bring 'Tales from Porth' to life, seeing Goolan transformed into a vibrant animation marks a new output for us at Golden Tree. We hope that children love this brand-new digital story as much as they did the storybooks. Let's have fun with the Cornish language!')
In an interview with Screen Cornwall, Executive producer Denzil Monk said:
"Beginning production of the first Kernewek / Cornish language children's series –transforming the popular world of 'Drollys DhyworthPorth' / Tales from Porth from page to screen –marks an important and exciting step on our path towards a Cornish public service media, providing quality, fun and engaging programmes for children growing up with Cornish".
Screen Cornwall work closely with Cornwall Council and run a number of talent development programmes, working with partners to amplify opportunities for creatives to connect with professional training, support and funding. Screen Cornwall has a specific focus on Cornish language, culture and heritage through the case for a Cornish public service media. 
The 'Goolan' animated episode is one of many Cornish language resources available to young learners through Go Cornish for Primary Schools, an educational programme masterminded by Golden Tree Productions and commissioned by Cornwall Council that brings the Cornish language to life, both inside and outside the classroom. Go Cornish is available to all primary schools in Cornwall for free, aiming to give every child growing up in Cornwall deserves the opportunity to learn something of the Cornish language, and to discover the culturally rich heritage of our amazing patch of the planet.