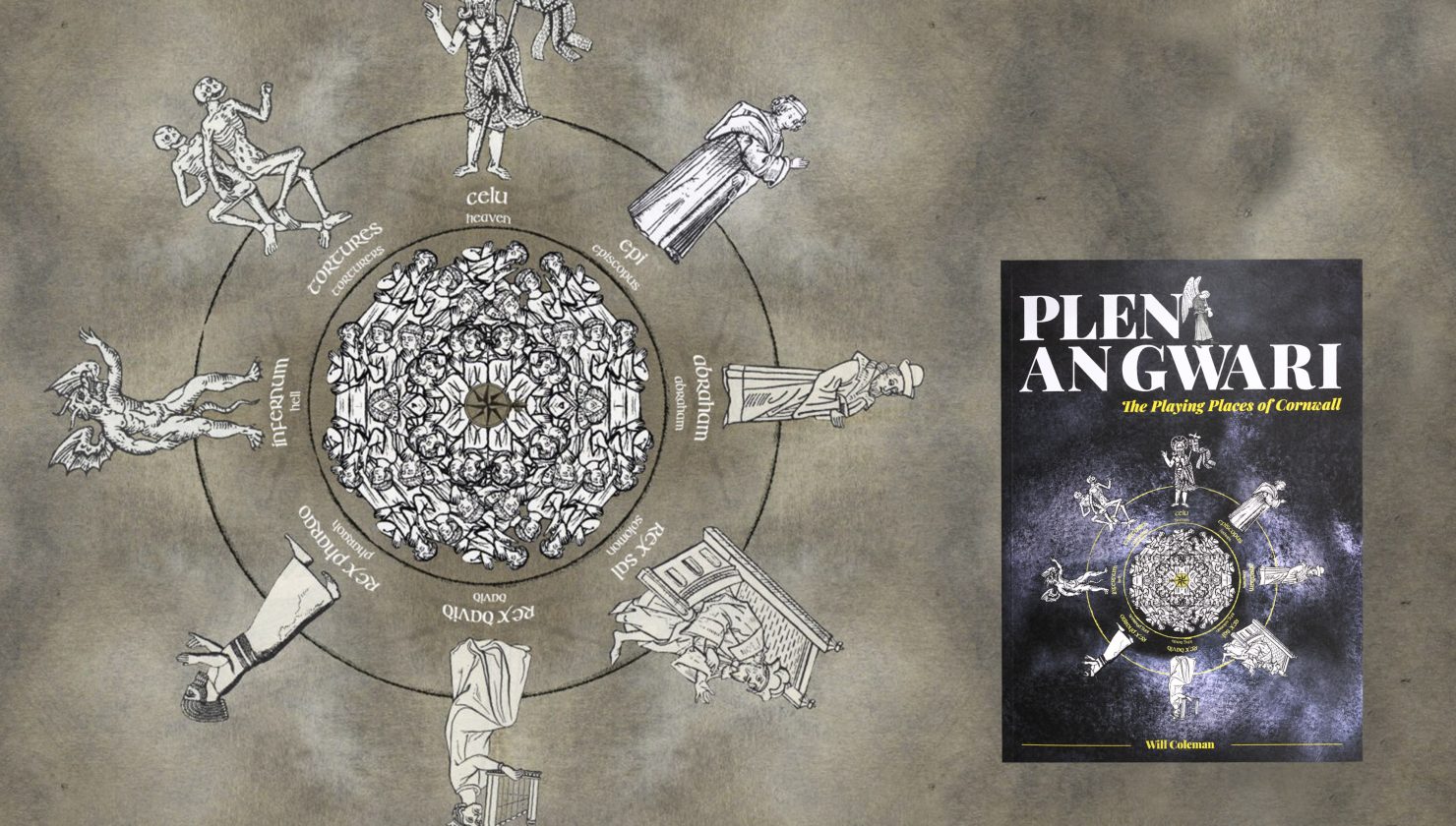 Out Now! 2nd Edition of Will Coleman's "Plen an Gwari: The Playing Places of Cornwall"
Posted on May 10th, 2021
Article written by Will Coleman, Author and Artistic Director of Golden Tree
Well now, there's a brave old bubble of excitement brewing across Cornwall about a long-awaited homecoming this summer.
An exhibition is being hosted at Kresen Kernow of a handful of ancient vellum manuscripts covered in squiggly handwriting, illegible to most people. What's all the fuss?
Well, for starters, these manuscripts include:
the earliest full-length play-scripts that survive from anywhere in Britain,
the earliest full cycle of religious plays that survives from anywhere in Europe and
the earliest stage diagrams that survive from anywhere in the world!
If that isn't enough to get you excited, there's more. Between them, these play scripts constitute the main body of surviving texts written in medieval Kernewek (that's 'Cornish' if you didn't know!) and are used extensively to inform our understanding of the revived language today.
At the heart of this collection is the 'Ordinalia'. Pre-dating Shakespeare's works by some 200 years, the oldest manuscript of the homecomers is believed to have been written around 1375. The subject matter rattles through the entire sweep of medieval Christian thinking from the Creation through the Passion to the Resurrection of Christ. The plays, explicitly intended to be performed over three consecutive days, will see another colourful revival and re-staging at St Just Plain-an-Gwarry (plen an gwari; 'playing place') this September.
"En tas yn nef ym gylwyr . formyer pub tra a vyt gurys"
(The father in heaven I am called . creator of all that will be formed). The opening line of the earliest surviving full-length playscript in Britain.
"This study brings the medieval contribution to the vibrant Cornish tradition of multimedia communication back to life…with the expansive vision of a leading contemporary performer and director of modern Cornish mysteries."

Professor Michelle P. Brown FSA, Professor Emerita, University of London
What is it that was so special about the way these plays were staged?
Forget your contemporary notions of what is usually meant by the word 'theatre'. Imagine instead a circular arena rammed with thousands of people, an audience 'on the hoof' surrounded 360° by magnificent palaces and castles, a smoking Hell's Mouth, performers in splendid costumes, massed chorus and musicians, live animals, guns and fireworks, artfully constructed machinery and special effects. The plen an gwari theatre culture of medieval Cornwall would have delivered an epic, immersive experience.
Besides the two well-known complete examples, traces of more than 30 plen an gwari sites have now been located across mid and West Cornwall; a phenomenon unparalleled anywhere in Europe. Later, the forces of the Protestant Reformation suppressed both the plays and the Cornish language itself. The plen an gwari became a site of cultural activity that actively resisted the imposition of puritan orthodoxy and of the English language.
"I wish that more academic books were as beautiful and heartfelt as this one!"

Professor Marion Gibson, Professor of Renaissance and Magical Literatures, University of Exeter
Plen an Gwari: The Playing Places of Cornwall
My 2015 book Plen an Gwari: The Playing Places of Cornwall has been part of a noticeable change in awareness and appreciation of medieval Cornish theatre. That first edition is all sold out now, so we've tweaked and updated the book and published a 2nd edition.
So, grab yourself a copy if you would like to know:
How and why the plen an gwari tradition flourished and died
How to locate your local 'lost' plen an gwari site
What the contemporary cultural lessons are for us today.