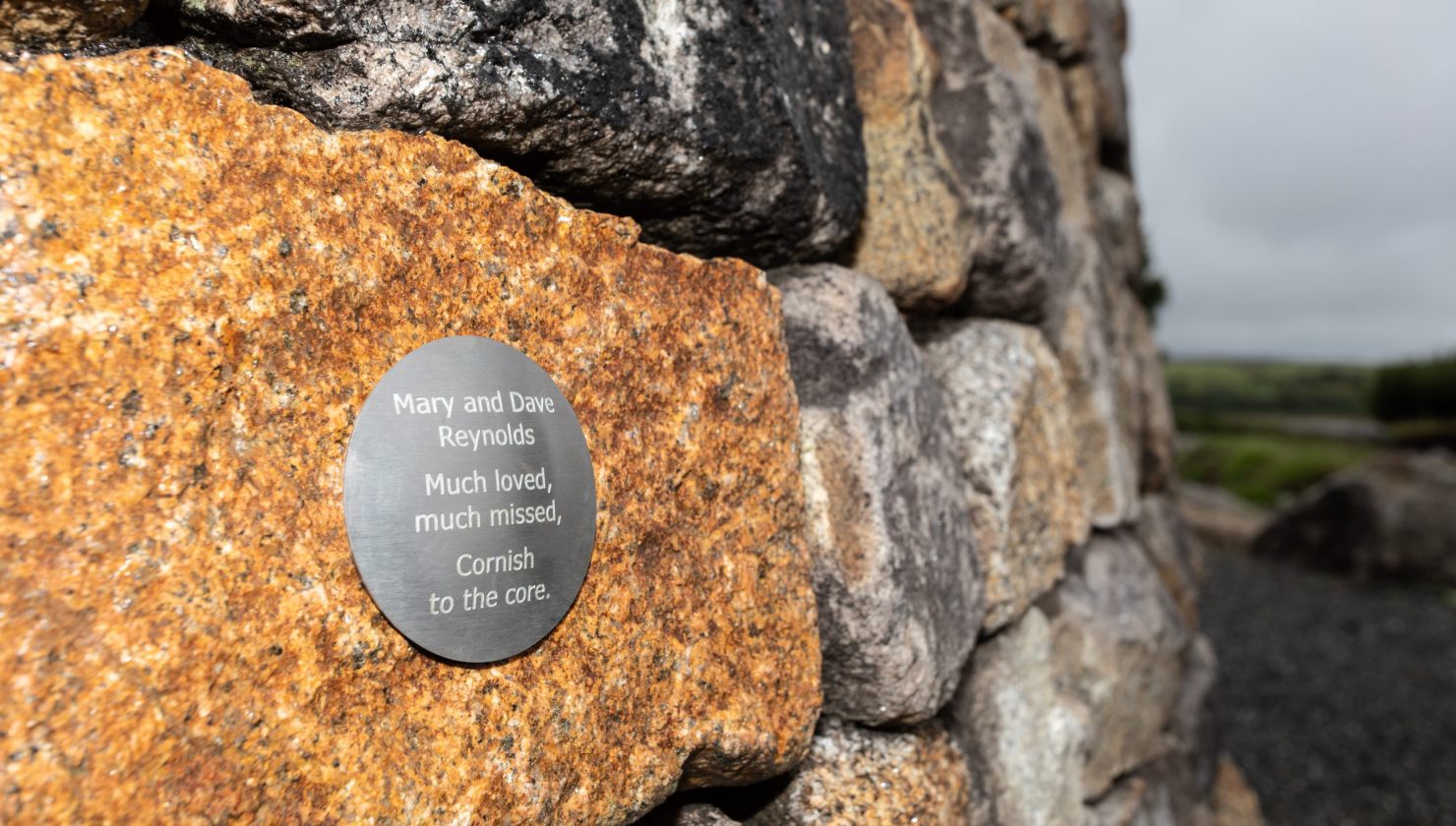 Kerdroya Hedge Pledge – In Loving Memory of…
Posted on November 24th, 2022
A Kerdroya Hedge Pledge provides a unique way to mark the passing of a loved one, with a memorial marker disk embedded in the Cornish Landscape Labyrinth, constructed entirely of Cornish hedges. The labyrinth will be a quiet place of contemplation in an area of outstanding natural beauty, overlooking Colliford Lake in the wilds of Bodmin Moor.
A £220 'Hedge Pledge' is a designated yard of Cornish hedge in the labyrinth that represents an area of Cornwall.  Each stretch of hedge will be embedded with a 75mm 'Marker Disk' plaque, engraved with a personalised message.
Everlasting Memory
Kerdroya will be a timeless memorial,  that will last long into the future. Thought to be one of the oldest man-made structures still in use for their original purpose, some ancient Cornish hedges proudly standing at the edge of our fields today are more than 4,000 years old.
Cornish to the Core
Constructed by master Cornish Hedgers, using local materials and traditional methods, it's Cornish to the core and makes a fitting tribute for any Cornwall lovers, set across an outline map of Kernow so you can pick a special place. The Labyrinth celebrates the meandering path of life, opening to a central artwork created by local master sculptors Thrussells, who have also been tasked with making the memorial plaques.
Say it with Flowers
This carbon-neutral project will create 800m of new habitat and become a haven for wildlife and hundreds of species of flora and fauna.  Cut flowers sent for bereavements and presented at funerals come at a high environmental price, so a Hedge Pledge can be a way for mourners to make a more planet-friendly donation 'in lieu of flowers'.
To find out more about Kerdroya and our memorial opportunities please visit our Hedge Pledge page or get in touch with us to discuss.