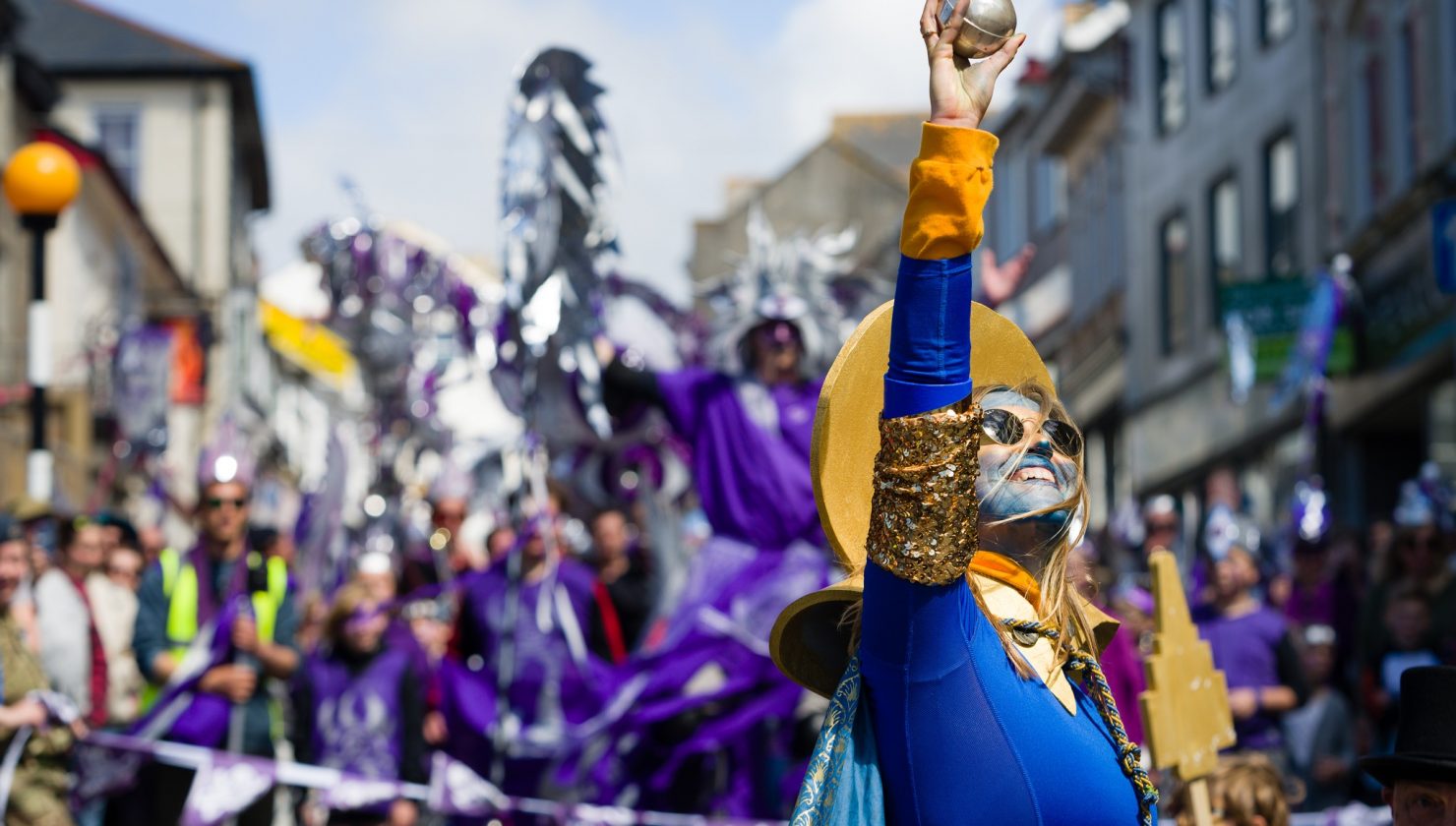 Hellfire Kernow 2023
Posted on May 30th, 2023
On Monday 1
st
May four colourful crews of Redruth residents took to the streets for a playful new celebration of Cornish heritage and culture – 'Hellfire Kernow'.
Rooted in Redruth, Hellfire Kernow has been masterminded by Golden Tree Productions and created by and for the community. It will take its place in Cornwall's cultural calendar, annually on the first spring bank holiday. 
The project is inspired by Redruth's medieval Cornish amphitheatre or 'Plen an gwari' – a circular 'playing place' where audiences would have experienced extraordinary plays, theatrical goings-on and sports tournaments, most likely located close to 'Plain-an-Gwarry' street, near to Redruth Rugby Club.  
With the traditions of plen-an-gwari behind it, this 'brand-new ancient celebration' included a spectacular procession through the town, a reimagined and re-enacted story of the life of Saint Euny, Redruth's patron, and a revival of an ancient Cornish sport with the 'Hellfire Hurl', a dramatic tournament played by pupils from Redruth School. 
Described by some as 'spectacularly bonkers', Hellfire joined together the familiar and the unfamiliar – combining art, heritage, community and sport. The event brought together those from the north, south, east and west of Redruth, and beyond, in four distinct Kryws ('crews') of Angels, Demons, Tormentors and Saints. Where you live in Kernow determines which Hellfire Kryw you belong to, with the divisions based on the medieval keverangow ('hundreds') of Cornwall. 
Having triumphed last year in the Hellfire Hurl, the Saints proudly carried the Silver Ball trophy through the town to the Rugby Club where the four teams played until a battle of good and evil resulted in a win for the Tormentors who celebrated in true Tormentor fashion – with their choreographed Cornish Garm Vresel 'battle cry' performed to all. 
Hellfire Kernow was an invitation to all members of the community, to join-in in ways that suited them – with a series of free, drop-in workshops in the run-up to the event for both adults and children to get creative, making costumes and props to use on the day, band rehearsals for musicians to join-in with and community workshops for Redruth's young people to learn the Cornish language chant and choreography of each Kryw battle cry. 
Artist Director Will Coleman said:  

'An golowboynt ragov o an pols ha'n peswar Kryw ow keskerdhes yn lent dhyworth peswar kornell a'n drea, metya er aga fynn warbarth bys dhe imach Stenner yn-dann tour klock, keniver gans aga ton diblans aga honan, ow  drehevel dhe hubbadillia gwyls a dros ha liw.' 

 

'The highlight for me was the moment with the four Kryws processing slowly from four corners of the town, meeting at the Miner's Statue under the clock tower, each with their own distinct tune building to a wild cacophony of sound and colour.' 
Having set the spark with the first Hellfire Kernow last year, Golden Tree Productions, masterminds of the much-loved Man Engine, were successful in their bid for Redruth investment from the UK government, through the UK Shared Prosperity Fund, to develop and grow Hellfire Kernow over four years. 
Artistic Director Will Coleman said:  

'Dell waytyn ni, tevi ha kavos bewnans y honan a wra an hwarvos ma, degys gans tus Resrudh.' 

 

'Our hope is that the event will evolve, grow and take on a life of its own, carried by the people of Redruth.' 
The project has received funding from the UK Government through the UK Shared Prosperity Fund. The UK Shared Prosperity Fund is a central pillar of the UK Government's Levelling Up agenda and aims to improve pride in place and increase life chances across the UK by investing in communities and place, supporting local business, and people and skills. Cornwall Council has been chosen by Government as a Lead Authority for the fund and is responsible for monitoring the progress of projects funded through the UK Shared Prosperity Fund in Cornwall and the Isles of Scilly.  
Louis Gardner, Cornwall Council cabinet portfolio holder for economy, said:  

"It was great to see residents of Redruth, as well as from across Cornwall, come together for this very unique event celebrating and reviving ancient Cornish traditions." 
To find out more about the project visit our project page here.