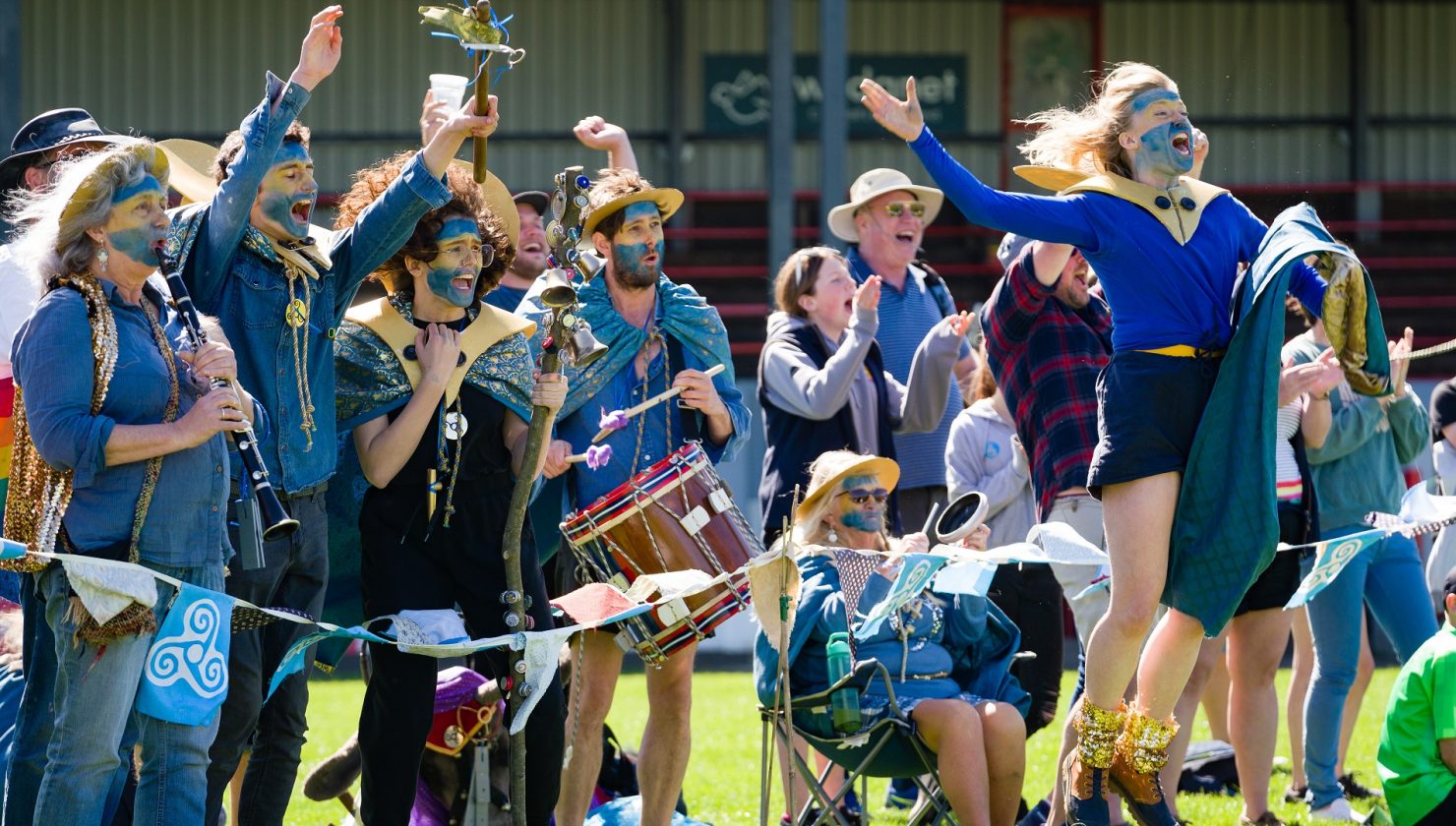 Hellfire Kernow is coming…
Posted on February 2nd, 2023
Having set the spark with the first Hellfire Kernow last year, colourful crews of Redruth residents will take to the streets on Monday 1
st
May 2023 for a celebration of Redruth and its patron, Saint Euny.
We're delighted to announce that we were successful in our bid for Redruth investment through the UK Shared Prosperity Fund will be delivering another spectacle and celebration of Cornish heritage with 'Hellfire Kernow'.  
The UK Shared Prosperity Fund is a central pillar of the UK Government's Levelling Up agenda and aims to improve pride in place and increase life chances across the UK by investing in communities and place, supporting local business, and people and skills.  
It is this investment in communities and place that has got our Artistic Director Will Coleman excited about the plans: 
"Ow miras orth an tan y'n golonow warleni a-dhia bush a'n goslowysi hag nerth a-dhia eseli a'n kemenieth a junyas aga Kryws, a res dhyn ni sens gwir a'n pobel a Resrudh ow tos warbarth." 
 "Seeing the enthusiasm last year from the crowd of spectators, and the energy from the members of community who joined their crews, gave us a real sense of the people of Redruth coming together." 
"This huge chunk of investment will help us to grow the event. We're working with an incredible network of talented individuals, community groups and businesses in the area to pull this together and encourage everyone to get involved! Last year more than 100 people joined the procession as it went through the town, but this year will be even bigger and better.  We see the project growing year on year as an event for, and by, the people of Redruth. Mir orth an spas ma! / Watch this space!" 
We will be working closely with Redruth School, Redruth Rugby Football Club, community groups and local businesses to put on the event and deliver workshops in the run-up to the May Bank Holiday celebrations – creating costumes, choreographing theatrical interventions and practicing the sport of hurling.  
Where you live determines which Hellfire crew you're part of, and which team you might like to support on Monday 1st May. Find us at Redruth's St Piran celebrations on Saturday 4th March to find out which Kryw you belong to and how you can get involved!
The divisions are based on the medieval keverangow ('hundreds') of Cornwall and centered on the crossroads at the bottom of Redruth Fore Street.  It's here that Hellfire Kernow will start, with a proclamation that leads to a spectacular procession of the Kryws through the town to Redruth Rugby Club. 
The project has received funding from the UK Government through the UK Shared Prosperity Fund. Cornwall Council has been chosen by Government as a Lead Authority for the fund and is responsible for monitoring the progress of projects funded through the UK Shared Prosperity Fund in Cornwall and the Isles of Scilly.  
Cllr Louis Gardener, Cornwall Council cabinet portfolio holder for economy: "We're using the Shared Prosperity Fund to build on Cornwall's unique heritage and cultural assets. Investing in innovative cultural programmes such as this aims to bring together local communities and boost their long-term growth." 
To find out more about the project visit our Hellfire Kernow project page.