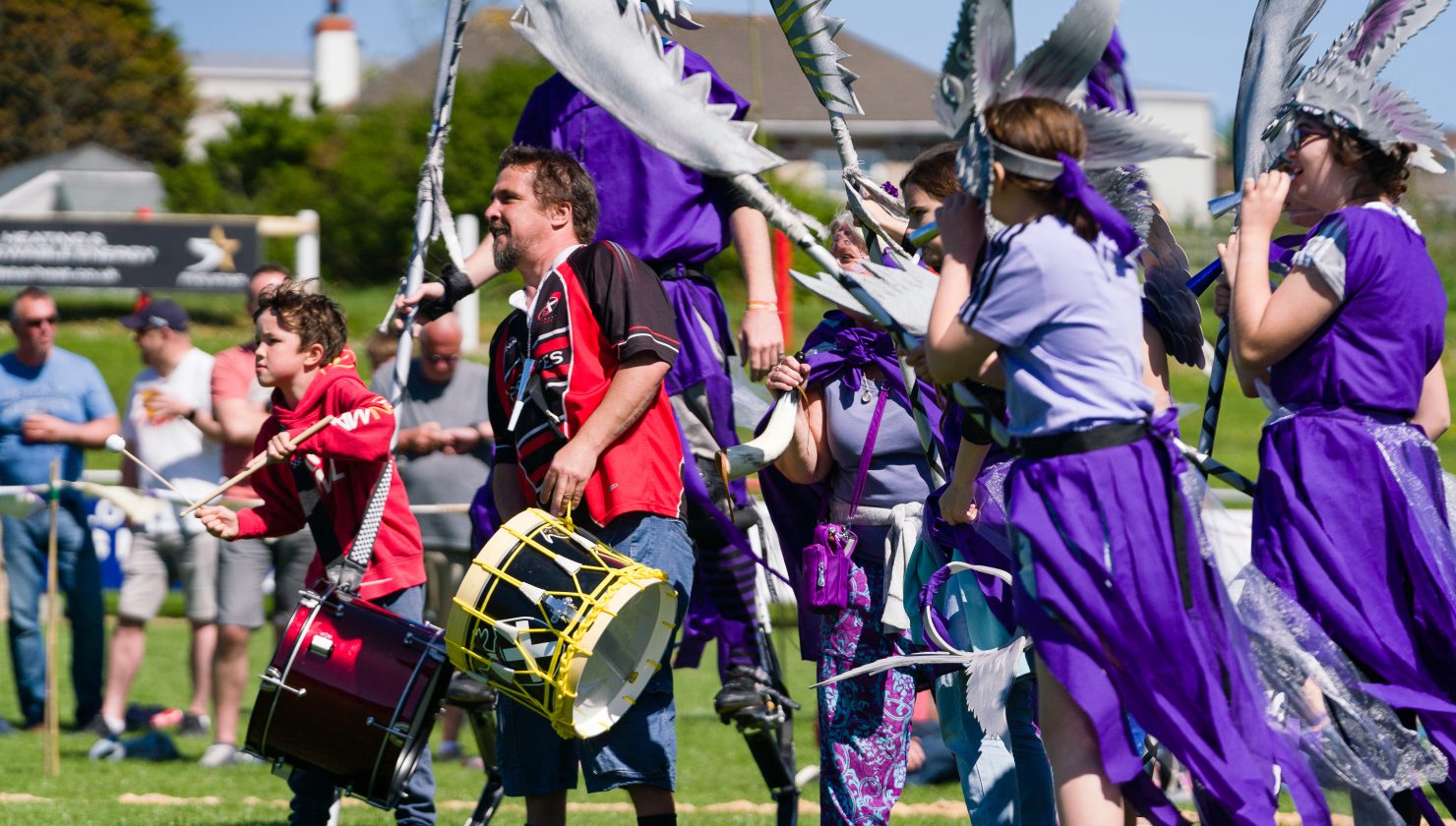 Golden Tree Productions Set the Spark for 'Hellfire Kernow' in Redruth
Posted on June 8th, 2022
With fire in their bellies and battle cries in the air, four colourful crews hailing from the four corners of Redruth took to the Rugby Club on Saturday 28th May for a dramatic revival of an ancient Cornish sport. 
We delivered another spectacle and celebration of Cornish heritage with our latest project 'Hellfire Kernow' – funded by Arts Council England National Lottery Project Grant and Redruth Unlimited – a new cultural adventure for Redruth.
Having worked closely with Redruth School and the Redruth community to deliver workshops in the run-up, the four eye-catching crews of Angels, Demons, Tormentors and Saints readied themselves at Crew HQs across the town – The Buttermarket, Hellfire Corner, The Community Centre and St Rumon's Gardens – before processing to the Rugby Club, picking up supporters along the way.
The tournament, watched by 250 spectators, was a revival, reconstruction and reimagination of our ancient Cornish sport of 'Hurling to Goal' – a forerunner to Rugby documented in 1602. For safety, instead of burly adults and a weighty metal ball, the inaugural Hellfire Kernow games were played by eager teams of Year 7s from Redruth School, with a soft silver ball at a slower pace.
After the tournament, the young players and their supporting crews took part in a dramatic re-telling of the origin story of St Euny (patron saint of Redruth) before spilling out onto the streets for a parade. Colin Rescorla, maker of the silver ball used in St Columb's annual hurling game, was commissioned to create the new ball especially for Redruth's celebrations – presented to the winning 'Saints' by Redruth Mayor Cllr Matthew Brown before being carried, with pride, by the glorious champions through the town. The 100-strong procession passed through each spiritual home of the crews, where the Angels showered the crowd with purple petals, the Saints anointed their followers with water pistols and the Demons hurled fun-snap fire-crackers, before returning to the Rugby Club for a final round of battle cries and ceremonial lighting of four crew icon fire sculptures. 
Our Artistic Director Will Coleman said –  
"Ow miras orth an tan y'n golonow rag a'gan hensport Kernewek a-dhia bush a'n goslowysi hag nerth a-dhia eseli a'n kemenieth a junyas aga Kryws, a res dhyn ni sens gwir a'n pobel a resrudh ow tos warbarth." 
 "Seeing the enthusiasm for our ancient Cornish sport of 'Hurling to Goal' from the crowd of spectators, and the energy from the members of community who joined their crews, gave us a real sense of the people of Redruth coming together." 
"We've been overwhelmed with the positive response to the project, and to the event itself, especially seeing as this year was just a trial as part of our research and development! So, this is just the beginning for Hellfire Kernow and there's already plenty of people interested in taking part next time – see 'ee next year!"  
'Hellfire Kernow' is a long-term, cultural engagement programme that deliberately uses our extraordinary yet almost unknown medieval theatrical heritage to help reinvent Redruth town centre as a cultural and leisure  space. Golden Tree Productions, commissioned by Redruth Town Council (through the Town Vitality Fund), explore the notion of Redruth having a plen an gwari, once again. This could be the first brand new medieval Cornish amphitheatre to have been built for 500 years, becoming an important community hub, a beautiful green space and an exciting venue for sporting end cultural events like Hellfire Kernow….watch this space! 
To find out more about the project and the funders visit the Hellfire Kernow Project page.
Photos: Steve Tanner.