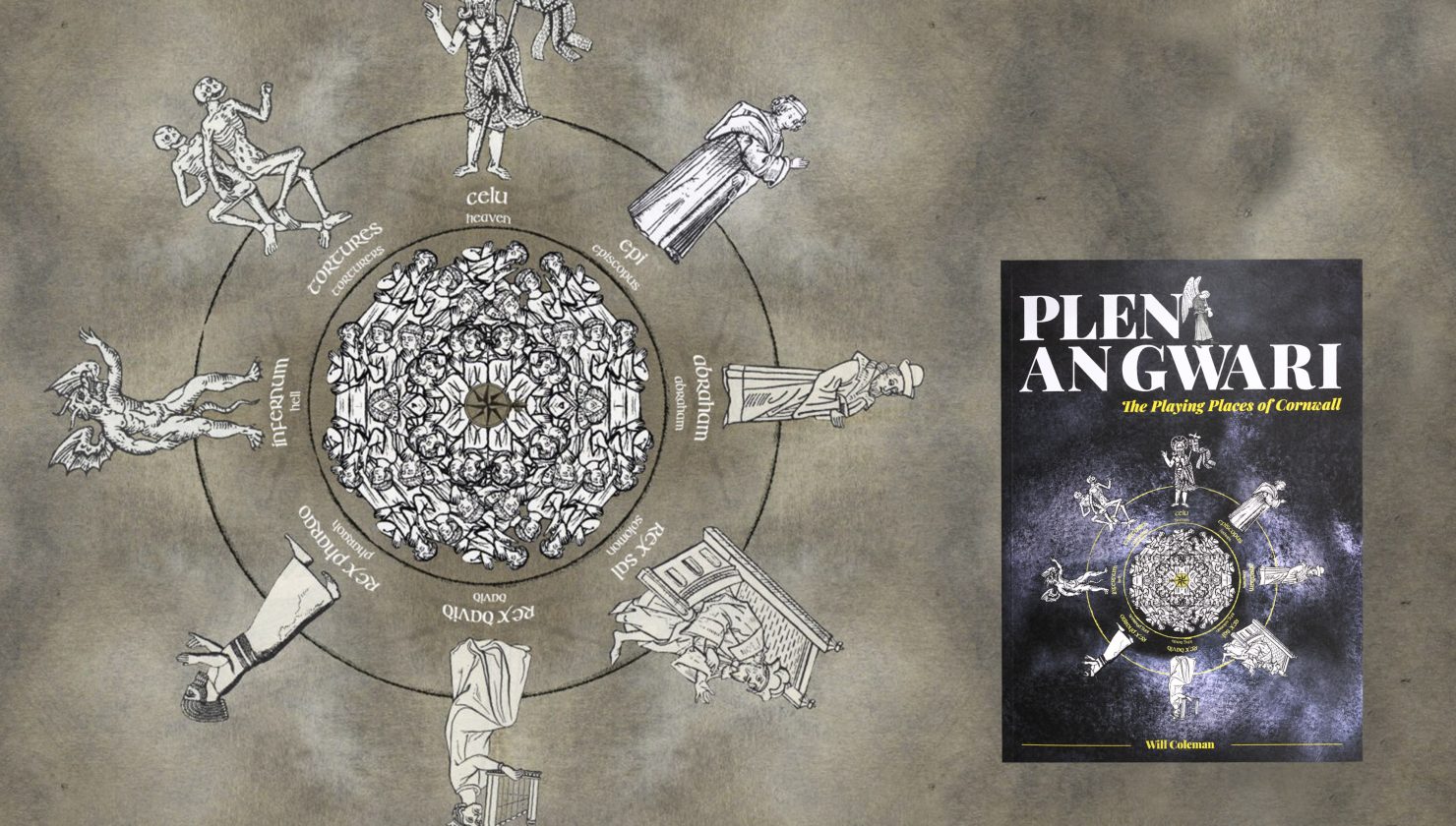 Exploring the notion of a Redruth Plen an Gwari
Posted on February 4th, 2022
Redruth Town Council has recently commissioned Golden Tree Productions to carry out the research and development for a new Redruth Plen an Gwari. We've just appointed Landscape Architects Mei Loci to embark on the next steps of the project, as Lead Designer. 
We'll be exploring the notion of Redruth having a plen an gwari, once again. This would be the first brand new medieval Cornish amphitheatre to have been built for 500 years, becoming an important community hub, a beautiful green space, and an exciting performance venue with a rolling programme of cultural events.
Whilst there have been several initiatives in more recent years that have made use of the term 'Plen an Gwari', these projects have generally been smaller, semi-circular structures, intended to be used with a seated audience (more like a mini Greek amphitheatre). To our knowledge, a full-scale and fully-functioning circular plen an gwari, accurately reflecting historical and archaeological evidence, has not been attempted in the last half a millennium.
This will be something of a 'revival project' as Redruth's 'Plain-an-Gwarry' street is named after the plen an gwari that once stood in that part of the town. Thousands of spectators would have thronged through the wide circular arena for an epic, immersive outdoor experience complete with special effects, aerobatics, elaborate costumes, and pyrotechnics.  
We are are looking forward to making a start on the research and development of this project, as our Artistic Director Will Coleman explains:
'Ragdres ertach gonisogeth pur boosek rag Resrudh ha Kernow oll yw hemma. Res porres yw dhe viras a-dhelergh, dhe gonvedhes an termyn eus passys ha dhe wruthyl neppyth marthys rag an termyn a dheu.'

(This is such an important cultural heritage project for Redruth and for all of Cornwall. It is essential that we look back, to understand the past and to create something amazing for the future.)
Phil Crossley, of Crossley Hill Chartered Surveyors in Truro, has been appointed as lead surveyor consulting on the project.
Cornwall-based Landscape Architects 
Mei Loci 
were awarded the Lead Design Services tender, working alongside Mark Elton, founder of Cowan Architects and proud Cornish speaker.
 'Mei Loci,' meaning 'my place' in Latin, create places that people love and can call their own. Through landscape architecture, Mei Loci reinvigorate conversations between land and community, trying to regenerate the essence of the past and revive spaces that inspire common experience and a shared identity. They take a community-led, collaborative approach to all their projects – designing with people, for people.  
Michael Hawes, Director of Mei Loci says: 

"Through an understanding of local character, heritage, and culture, we can tell stories of people and culture through the landscape. A landscape that we use for events as well as through a passive interaction with the space. We are particularly excited about the Plen an Gwari project as somewhere that stories will be told for generations to come. It is an opportunity to work within a fantastic team to develop a project that is of great importance to Cornwall and will hopefully become a well-used and well-loved destination." 
This research and development will be funded by The Town Vitality Fund, managed by Redruth Town Council. Cornwall Council has established the Town Centre Revitalisation Fund to support the development of investment proposals for towns in Cornwall. Redruth Town Council has been awarded a grant for 'Town Vitality' activities under this scheme.  
Under the programme of Town Vitality activity, the Destination Redruth strategy includes investment in Redruth's large events, festivals, and markets. Venues and locations across the town will be enhanced, bringing together a 'brochure' of venues, places, and spaces across the town. 
The Town Vitality Fund scheme is being delivered in partnership with the Redruth High Street Heritage Action Zone (HSHAZ) scheme, which will see derelict and underused historic buildings in the town centre revitalised, investment in key buildings and a programme of cultural commissions.