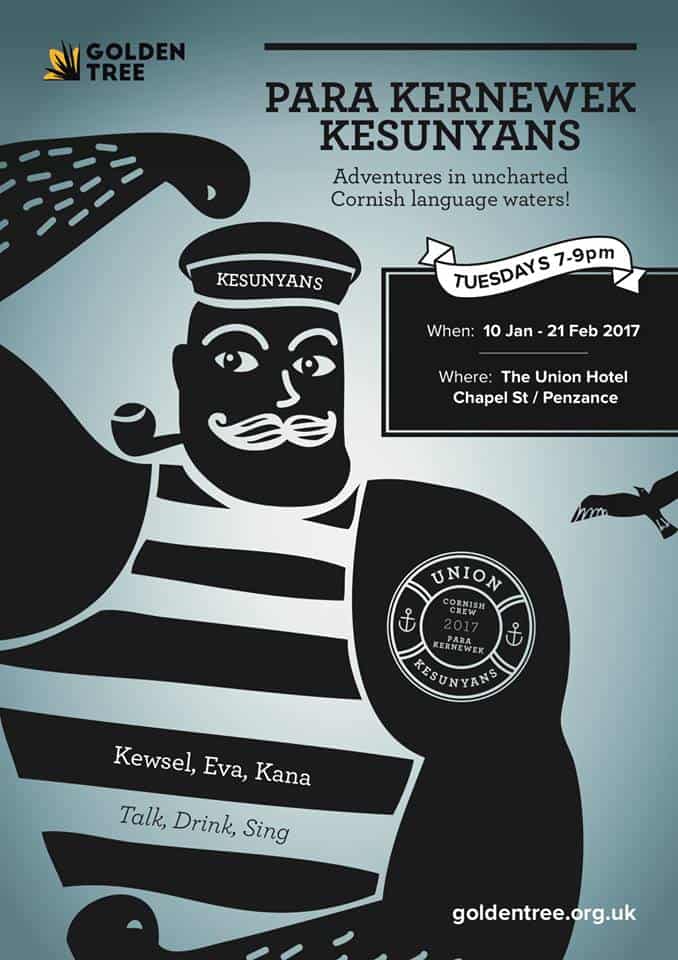 New Year,
New Adventures,
New Language!
Tuesdays 7-9pm
When: 10 Jan - 21 Feb 2017
Where: The Union Hotel, Chapel St, Penzance

To launch yourself into 2017 you are invited to get on board an exploration into uncharted Cornish Language waters!
Golden Tree Productions will be hosting FREE weekly Kernewek sessions at The Union Hotel, Penzance starting on Tuesday January 10th and continuing until February 21st.

"We are inspired by Admiral Pellew's 'Cornish Crew' of 1793," said Will Coleman, Director of Golden Tree "they were eighty Cornish-speaking tin miners who had never set foot on a boat! Now we are recruiting our own 'Cornish Crew' of land-lubbers and sea-dogs alike – anyone who is up for the adventure! "
Each evening starts at 7pm with "KESKOWS DIWOTTI" ('Pub Chat'): learning just enough Cornish to help you order, share and enjoy food and drinks.
Then continues from 8pm with "KANA DIWOTTI" ('Pub Singing'): learning simple songs in Cornish.
Combined, these sessions will give you everything you need to enjoy a good night out in Kernewek. Suitable for complete beginners or those who already have a certain amount of Cornish, no registration or booking is needed!